Gallery
LIZ NOBLE
My paintings are commentary and satire of stereotypically feminine beautification and adornment rituals, eating rituals, and domestic rituals. The work explores many aspects of femininity from sensuality, to confidence, to insecurity. The idea of changing the body's appearance, for whatever reason it may be, intrigues me. I explore traditional gender roles, body manipulation, and stereotypes through dress patterns applied to the canvas, color palette, and various other media. The work also considers women's relationships with food, how women feel about food, verses how we are supposed to feel about food, verses how we are basically taught to feel about food by way of mass media. Eating and not eating are ways in which one can also change the body's appearance and functionality. The dress patterns become even more powerful when juxtaposed with imagery of food and the figure, directly referencing size, control, and form. Finally, my work also challenges what it is to be domestic, exploring the contemporary female homemaker while juxtaposing solitaire female figures with various domestic appliances. Referencing everything from makeup ad color schemes, to fictional heroines, to religious saints, my paintings, though empathetic, expose the private rituals that women of the Western world engage in at one time or another.
Click an image to enlarge.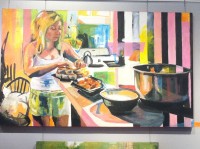 FOLLOWING DIRECTIONSPrice: CALL
SOLD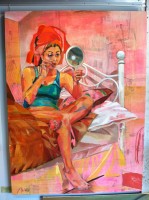 RIP CURL
54 X 40 OIL AND DRESS PATTERNS ON CANVAS
Price: SOLD
SOLD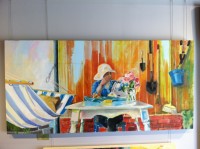 A.M.
30 X 62 ACRYLIC ON CANVAS
Price: SOLD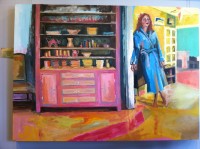 SOMETHING OTHER. SOMETHING MORE.
32 X 42 OIL ON CANVAS
Price: CALL
SOLD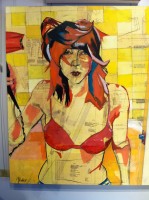 DRY ENDS
46 X 46 OIL, CHARCOAL AND DRESS PATTERNS ON CANVAS
Price: SOLD
SOLD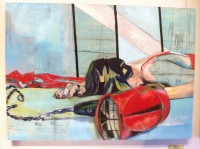 DEFUNCTPrice: SOLD
SOLD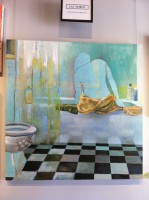 OMEGA MAE
46 X 46 OIL AND PAPER ON CANVAS
Price: SOLD
SOLD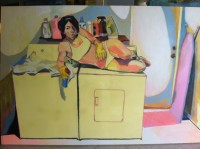 HEROINE DOMESTICA
Liz Noble (American) Heroine Domestica, 2011 Acrylic and glitter on canvas (48 X 72) Perched seductively atop a mustard yellow washer and dryer, the sensual vitality of Liz Noble's Heroine transforms cleaning supplies into emblems of power, and the laundry room into a vibrant domain, challenging the notion of domesticity as passive subservience.
Price: SOLD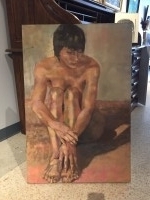 "SEATED NUDE IN SOFT LIGHT"
OIL ON CANVAS
Price: PLEASE CALL
LAMENTPrice: CALL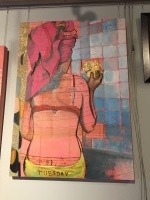 "CONTEMPLATING THE POUF"
OIL, ACRYLIC, DRESS PATTERN PAPER, AND GLITTER ON CANVAS
Price: PLEASE CALL
SOLD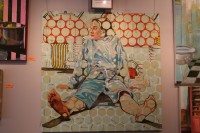 A GREAT ESCAPEPrice: SOLD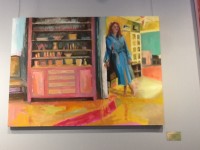 SOMETHING OTHER SOMETHING Price: PLEASE CALL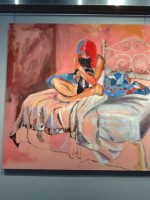 MOTHER AND CHILDPrice: PLEASE CALL
SOLD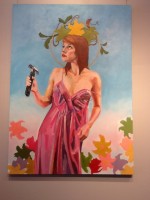 EUREKA MOMENTPrice: SOLD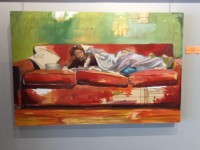 LAMENTPrice: PLEASE CALL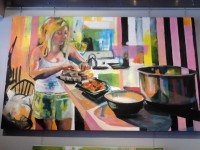 FOLLOWING DIRECTIONSPrice: PLEASE CALL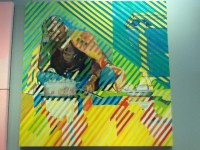 MID-WINTER THERAPYPrice: PLEASE CALL
SOLD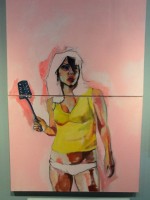 SUNDAY MORNINGPrice: SOLD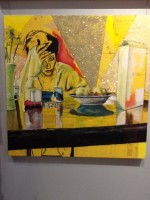 METABOLISMPrice: SOLD
SOLD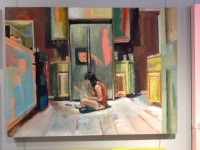 LATE AT NIGHTPrice: SOLD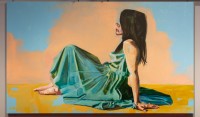 RALLYPrice: PLEASE CALL
SOLD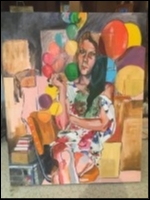 BALLOONS IN THE BASEMENTPrice: SOLD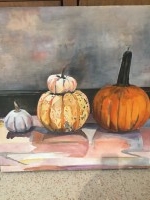 CUATROPrice: PLEASE CALL